Poncho has been as much the family patriarch as he has been a 7- Time Peruvian Horse Association of Canada high-point Trail horse award winner.
At age 30, it is difficult to say whether he has endeared himself because he is a great horse for every member of our family or if it is because he has allowed us to be so successful on the competitive trail circuit here in Alberta.
One thing I can say for certain is some of my best moments with horses have come about because of this sturdy and proud gelding.
Poncho came to be ours only a couple of months after we purchased our first horse, also a Peruvian. They are like potatoe chips, you can't just have one.
Certainly, there were many traits that made me frustrated in the early days. For an example, there was a time where I had to rally three friends to help catch him. I remember a tearful complaint to my soon-to-be hubby Brent, 'I can't teach him that I love him if I can't catch him!'
I recall the horse-eating mailboxes that sent him into a tailspin in the ditches we rode and I recall his headstrong attitude on the trail.
I also remember so many, many rides. My first time riding alongside a herd of running deer and the first time I rode alongside wild horses – that was rather scary, but exhilarating. In any and all accounts, Poncho has been an amazing partner for all of us.
His career, as far as competitive trail or endurance goes, is not remarkable. His competitive mileage is not triumphant when compared to others in the sport, due to my family commitments and, in hindsight, the restrictions I placed upon myself.
But he carried himself with charisma and competed with such joy.
Poncho achieved several top accolades with our provincial competitive trail association, yet many of my fondest memories of our trail adventures together are not about the ribbons or the accolades, they are the stories of Poncho, our friend, competitor and Peruvian Paso.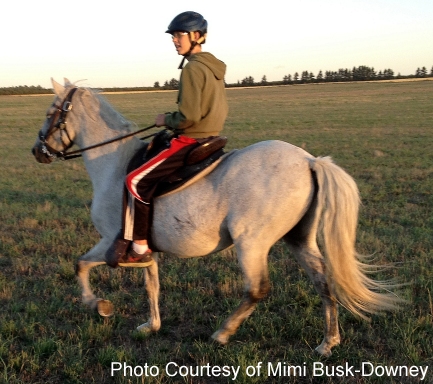 One of my fondest recollections was of a harrowing incident on a training ride in one of Canada's magnificent Provincial Parks. Only an hour from home, Kananaskis is a smorgasbord of beautiful mountain trails that exists only an hours drive from our farm. It was early in the season and I had an agenda. As we motored along on unfamiliar trail, we ran upon some snow here and there. After negotiating an icy flow that ran over top of the trail with running water flowing freely beside it, I thought to myself, wow, spring is here.
As we continued down the trail, the blanket of white became more prevalent and we soldiered on. The trail – or was it the trail, it was getting hard to tell - snaked along a small ravine and traversed along the Northern slope. I urged him on and he obliged.
Being only 14.1 hands, Poncho and I had forged rivers and swam in deep pools. His small stature suited me, his presence though, always made me feel like I was riding a much bigger horse.
Suddenly, we sank up to the base of his neck in snow. My feet hit the top of the snow pack. Poncho paused and hesitated. Small or not, Poncho was in a pickle. He lunged to the right and landed again in more deep snow. Then he lunged again. He wasn't achieving the goal of freeing himself from the snow and, he was heading down the ravine, not back onto the trail. We had many years of trust between us – he had taught me the hard way to trust him more.
Instead of freeing us from the predicament though, he managed to get himself hung up on a downed log beneath the snow. He stopped. I jumped off landing well up to my waist in snow. My feet submerged in the icy water flowing beneath. I shuddered at the cold. I shuddered at my predicament.
My fingers worked nimbly and fiercely to undo his tack. I left it in a heap on the snow, untied his lead rope and secured it to his halter.
Removing his bridle, I assessed our situation. Straight ahead was more ravine. With a small river running beneath the snow and my horse already lodged on deadfall, it was not an option. Neither was going back. Poncho knew which way was out and fighting him to back up hill to dislodge himself from the deadfall was very unrealistic and unsafe. To my right and up about 14 feet was the trail we had been on before the corner full of snow. I positioned myself out of his way at the end of his lead. All the miles, the years we've spent together I hoped had created enough trust for him to trust me this time.
I encouraged him forward. He hesitated, considering his options I am sure. Maybe even uttering a few words beneath his breath for putting him in such an awful predicament. But shortly after my asking him to try, that sturdy little horse catapulted himself up over the deadfall and into the deep snow on the other side. I still have no idea how he cleared it from a standstill – the large log had been wedged at his belly. Seeing his out, he lunged to the right and up and up and up out of the ravine. I tried to stay a few steps ahead but fell behind and he wound up pulling me up and saving me in the process.
Poncho would never be the one to say he saved my bacon on that day. I'll say this, once we got back to the grassy patch on the safe side of the icy flow that started my uneasy feelings, I broke down and cried.