Statistical Analysis of Peruvian Paso Longevity Project Data
40% of Peruvian Horses Live More than 20 Years
Cynthia Fraser, PhD
Associate Professor, McIntire School of Commerce, University of Virginia
Author of Business Statistics for Competitive Advantage, Third Edition (2013) 
Dates of death, and corresponding ages, are not typically reported to registries. The Longevity Project opened up the possibility to learn just how long Peruvian Horses live. From a sample of all North American registered Peruvian horses born in 1995 or earlier, and belonging to owners of horses on the Longevity List, 40% are identified as having lived into their 20s and 30s—with many still alive. Horses on the Longevity list are not unusual outliers. . . rather, they represent a much larger number of Peruvians that live past 20. From owners of horses on the Longevity List, we learn that 40% of Peruvian horses living past twenty live 25 to 39 years.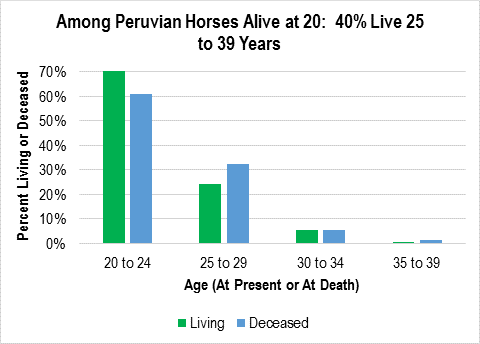 Margin of error is 2.4%, based on a sample of 1,601 registered Peruvian horses born 1995 or earlier on the Longevity list, living, or with known dates of death.
Average Lifespans of Other Breeds
After reading Cynthia Fraser's statistical analysis, Georges Smits, a Peruvian Paso enthusiast in Belgium, contacted Xavier Dornier, Directorate of Research and Development at the IFCE (Institut Français du Cheval et de L'Equitation, The French National Horse and Equitation Institute). In Mr. Smits words:
"The horse world in France is highly organized and regulated. Every foal born is registered and every horse that dies, passes through the regulatory system as well. Burying dead horses is forbidden and not done. France's data base contains hundreds of thousands of horses.
"According to Mr. Dornier, 38% of all riding horses and ponies reach the 20 year mark. Since ponies probably live somewhat longer than other equines, the result for horses alone is probably somewhat less than 38%."
With this comparable statistic, one can conclude that Peruvian Horses live as long or longer than other breeds.